Classic Car Wheel Covers in Sonoma, CA
Restore the old wheel covers of your classic car. The classic, custom-bodied cars of the pre-war era were usually driven on country roads. Unfortunately, the beautiful spoke wheels were often damaged by mud, snow, and debris. So, a need arose to manage wheel balance and eliminate clinging debris. Full-sized wheel covers addressed this need and became a new styling adornment.
If your old covers are damaged, then it's time to replace them. But where can you find original covers? On this page, O.D.D. Parts Fabrication displays several examples of our wheel covers that fit on first-place, show-winning cars since 1985. Now, we own the tooling from the former Lmarr Disk LTD. Due to our automotive part fabrication process, we can produce hundreds of different copied original and newly designed covers. Find out more about our custom automotive wheel covers in Sonoma, CA.
New Inventory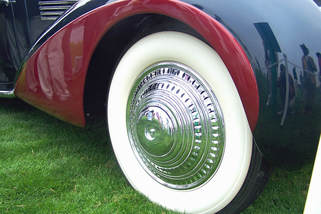 In 2018 ODD Parts acquired all spin molds and wheel covers from the former Lmarr Disk (Lmarr.com). For the uninformed, wheel covers were originally designed to keep the mud and snow out of spoke wheels. These era correct, pre-war, spun metal covers are embellished with a look that changes the aesthetics of many award winning coach built cars. Mike Rabin (creator of Lmarr Disk) is well known globally for providing these beautiful polished/painted wheel covers for the most coveted vehicles and first place show winners at Pebble Beach, Amelia Island, and Essen.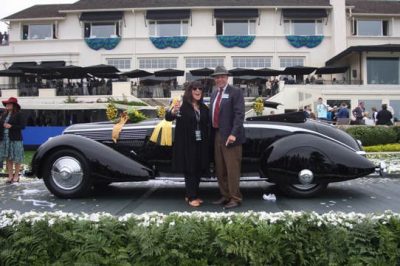 Attachment to the spoke wheel is done with a variety of different hardware components, some already on hand and in inventory and others custom fit for the vehicle.
In some cases, such as Bugatti, the spinner itself will retain the wheel cover, however the more common fitting utilizes a backing plate and long through bolts that attach an outer hub to the inner backing plate. Of course, the backing plate was meant to keep snow and mud from packing inside the spokes and thus is the correct original combination of components.
Mercedes 500k with Mike Rabin himself checking out his finishing touch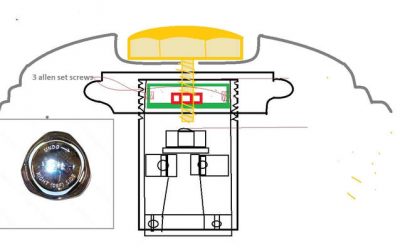 Unique fitting of wheel covers can be accomplished- as originally done- by noting the illustration done by ODD Parts in the upper left. The original spinner was replaced with an earless Jaguar spinner and a retainer nut was locked into the end of the original spinner hub allowing an external nut to retain the cover. Below is a picture of the nuts.